Welcome To The African Nova Scotian Community Calendar of Events. A list of events year-round.
If you would like to submit an event please complete the online form by clicking on the add event button and your submission will be reviewed and posted within 2 business days.

Shelburne African Heritage Month Proclamation
February 1
@
11:00 am
–
12:00 pm
Join us as we launch African Heritage Month 2023. This year's provincial theme is Seas of Struggle: African Peoples from Shore to Shore. This theme "recognizes the resiliency, strength, and determination of people of African descent from the shores of Africa to the shores of Nova Scotia — with the Atlantic Ocean being the everlasting connection." (Office of African Nova Scotian Affairs)
The proclamation will feature performances by Akaya Shand and the Hillcrest Choir; remarks from the the Black Loyalist Heritage Society, Municipality of the District of Shelburne and Municipality of Barrington; reading of the African Heritage Month Proclamation; and the unveiling of the provincial poster.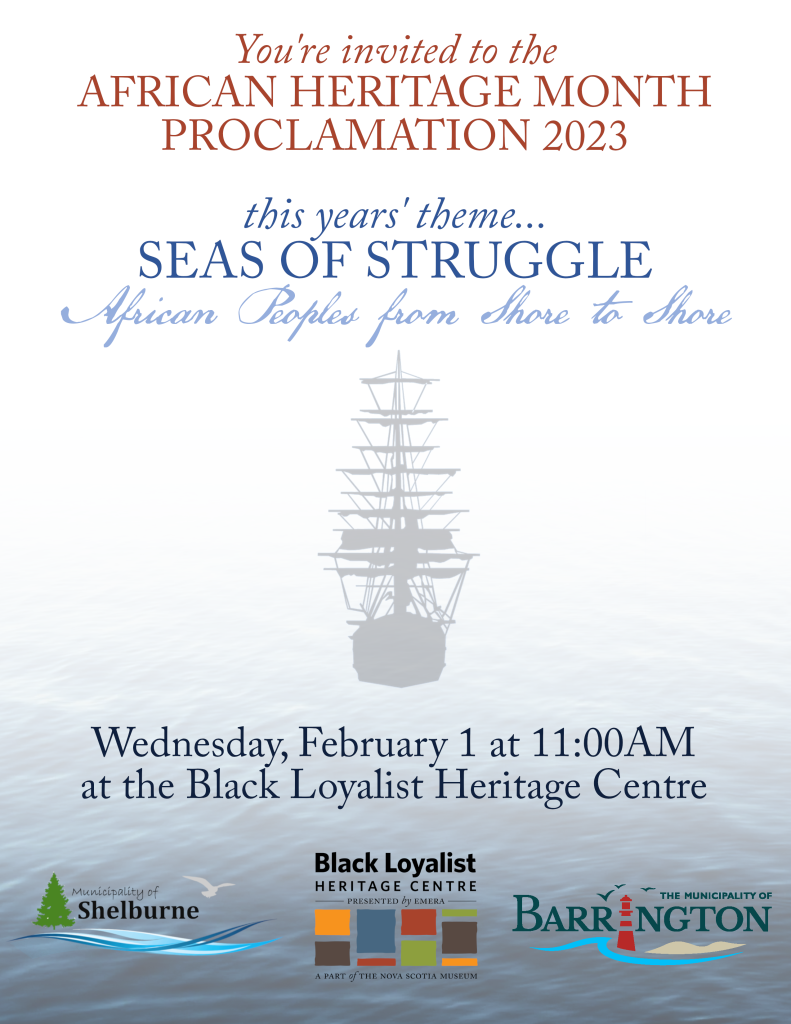 Black Loyalist Heritage Centre
902-875-1310
braden@blackloyalist.com
The community event calendar is a service offered by the Black Cultural Centre for Nova Scotia. All efforts are made to ensure the information is current and up to date, however we are not responsible for errors or omissions as the information is provided by public submissions.  Disclaimer